Main Page | Discography | Biography | How to Order | Schedule | Links
About Making River Cane Flutes

Download Sammy Tedder's music from CDBABY
Download from iTunes



Nominated for 2006 EMMY in Musical Composition/Arrangement



Apalachicola River: An American Treasure Sammy Tedder ....."the film also boasts an atmospheric soundtrack by accomplished musician Sammy Tedder. The music, which is at times haunting, is a perfect match for the amazing cinematography that really captures the scenic beauty of the river". - Briege McGarrity, Independent Film Quarterly - 2007 Cannes Special Edition




Sound Track CD: $15.00
Musicians:
Rene' Arbogast - trumpet
Slim Fatz - guitar, percussion and vocal, Solace in the Water
Pam Laws - vocal, Deep River
Frank Lindamood - guitar, banjo and harmonica
Wayne Martin - fiddle
Fred Millender - vocal, Were You There?
Prayer Chainers Mission of God Congregation - Geraldine Sheard, Pastor
Sammy Tedder - saxophones, river cane and bamboo flutes, shofar, dulcimer, duduk, didgeridoo, percussion and keyboard
Sandy Tedder - concert flute

Recording Information: All songs were recorded at Wayward Winds Studio in Sopchoppy, Florida except:
Fred Millender's vocal was recorded on location at his seafood business in East Point, Florida.
The Prayer Chainers Mission of God vocals on Take Me to the Water and It Will Be Alright were recorded on location at a baptism service at Camel Lake State Park near Bristol, Florida.
Nature Sounds were recorded by Sammy Tedder and Elam Stoltzfus on location along the Apalachicola River and its tributaries and in the Apalachicola National Forest.

Digitally Mastered by Pete Winter of Winterstone Productions in Tallahassee, Florida


In May of 2005 I was invited by cinematographer, Elam Stoltzfus to be involved in this project in the role as sound track producer, composer, performer, flute maker and sound recording engineer. I went out onto the River on many occasions with Elam, Clyde Butcher and Richard Bickel to see the sights and meet the people they were filming and photographing. Out on location I assisted in driving the boat, recorded nature sounds, recorded interviews and also shot behind the scenes video.

Each time I came away a changed person. Having spent recreational time on this River in my teens, this time I was looking at this watery wilderness in a completely new way--many years older, of course, but this time I was looking for a glimpse of how I was going to be able to tell the story of this River and its inhabitants through music.



River Cane Flutes

Listen to Ogeechee Moon featuring the River Cane Flute - Real Audio

Listen to Ogeechee Moon featuring the River Cane Flute - Windows Media Player

The catalyst for the creative spark was discovering that river cane, our only native bamboo, grows along the banks of this River and there were a few patches of cane large enough for making Native American style river cane flutes. Elam had discovered these and brought back some stalks that had been broken off by the last flood. We later went out and harvested a few pieces and I made four river cane flutes that I eventually used in the sound track. This seemed to give me a more direct connection with the River and slowly songs began to emerge.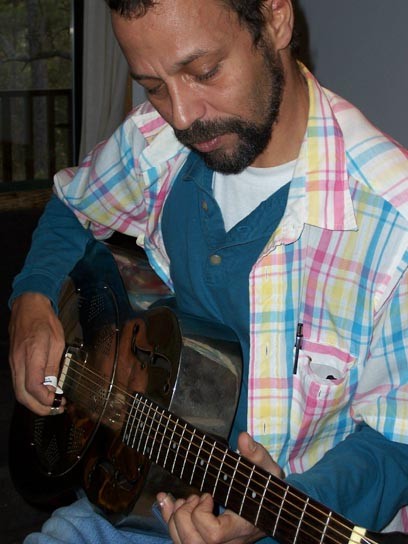 Slim Fatz - Solace in the Water

Listen to Solace in the Water - Real Audio

Listen to Solace in the Water - Windows Media Player

My artist friend, Dean Gioia introduced me to Slim Fatz. I was looking for a unique voice that would evoke feelings about life on the River and the Bay as a worker. I needed a voice to represent them and to accompany the portraits of the people that Richard Bickel had captured with his camera. Slim is a scholar of the Mississippi Delta Blues style and has this gravelly voice punctuated with the occasional "lawdy suh, unh huh, yep, yep, yep". I thoroughly enjoyed the afteroon Slim came out to record Solace in the Water. In addition to his chrome resonator guitar he brought a wooden writer's desk that he had converted into a percussion instrument and I must say it covers the parts well--bass drum by thumping the side with the ball of his right foot, scraping a bunch of wrapped-together schiskabob sticks across the serated top right edge of the box and striking the top of the box for a conga sound. Add to that a shaker played with the left foot and you have a full drum kit sound.


Pam Laws - Deep River

Listen to Deep River - Real Audio

Listen to Deep River - Windows Media Player

When Elam first talked with me about this project he mentioned that he wanted to reenact a river baptism the way it was done in the old days. I began wondering what kind of music would have been sung at a river baptism and called my friend, Pam Laws. She immediately came up with the old spiritual, "Deep River" and sang the first few phrases of it over the phone. I was so moved by the hauntingly longing melody of this song that I quickly arranged to record Pam Laws singing this song. This recording was the inspiration for all of us who were involved with this documentary and somehow guided us from that day forward.



The Baptism at Camel Lake: The Prayer Chainers Mission of God - Geraldine Sheard, Pastor

Listen to Take Me to the Water - Real Audio

Listen to Take Me to the Water - Windows Media Player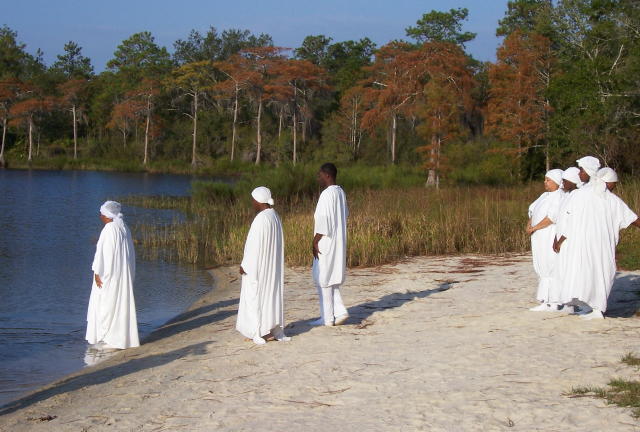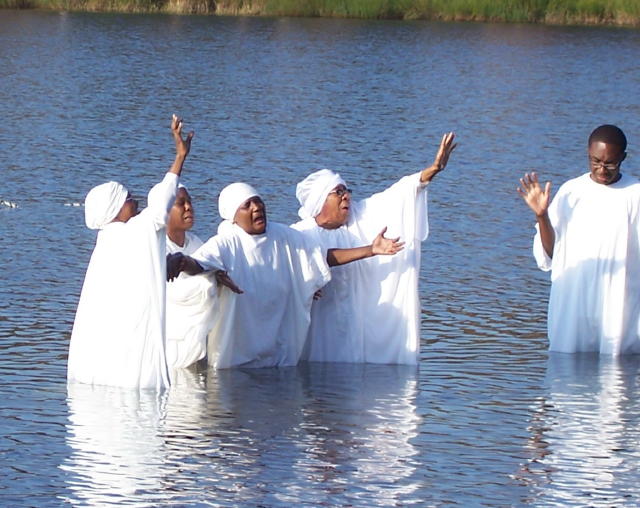 Later, Elam discovered that The Prayer Chainers Mission of God of Hugh Creek Florida still held their baptisms in the natural waters of Camel Lake. Water flows from this lake into a swamp that eventually finds it way to the Apalachicola River. Elam arranged for us to attend a baptism to film, photograph and record the sounds of this old tradition.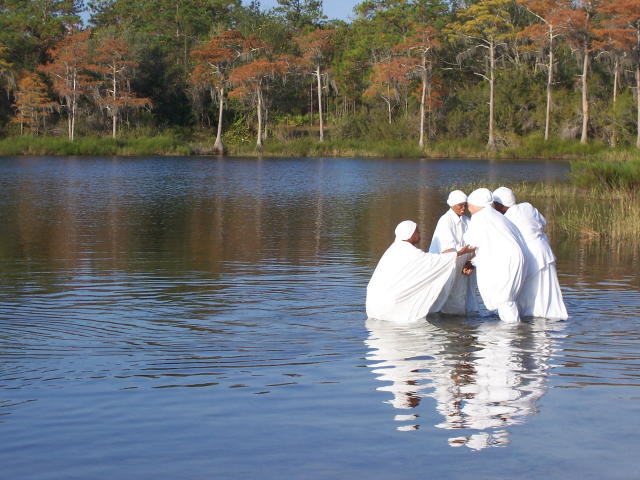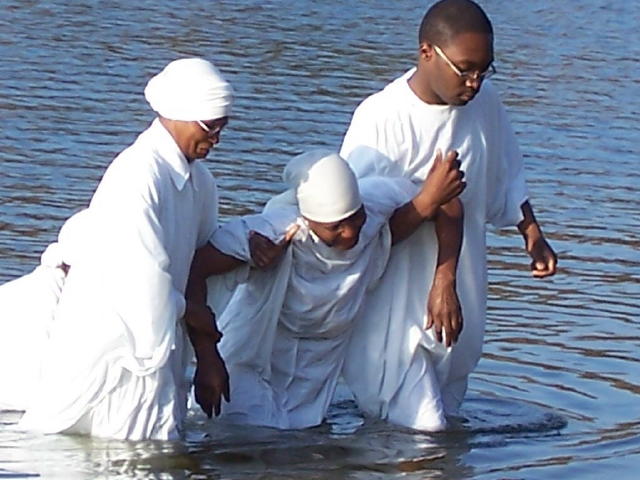 It was one of the most powerful and moving spiritual ceremonies I had ever attended. We met at dawn on the shores of Camel Lake. The glassy waters of the smalI, clear lake were surrounded by cypress trees whose needles had just turned to their fall color of burnt orange. I had just set up two microphones and was adjusting the levels when Pastor Geraldine Sheard quietly began to sing "Take Me to the Water". The congregation of 10 or 12 and the four candidates for baptism quietly joined in as I listened through my head phones. Their accapella voices crescendoed into the misty morning air that surrounded the lake as they slowly got into the spirit. It was as though we were not even there as they sang and clapped, cried, moaned and spoke in tongues. All the pain and suffering of the world seemed to be concentrated right there and coming up out of the lake and the earth through them. As they finished the service they recited the Lord's Prayer and then clapped hands and sang "It Will Be Alright, It Will Be Alright, If I Make It to that City It Will Be Alright" as they made their way up the hill to the parking lot. We were left there on the shores of the lake not yet comprehending what we had just witnessed.


Fred Millender - Were You There?

Listen to Were You There? - Real Audio

Listen to Were You There? - Windows Media Player

When I first started thinking of a concept for this sound track I felt that it needed to reflect parts of the culture found along the River and its Bay. From the broadest viewpoint you could say that this part of Florida is a part of the "Redneck Rivierra" and everyone drinks beer on Sunday afternoons and listens to Southern Rock and Roll. Although this may have a little truth to it for some on certain occasions, it seems that when we interviewed people for the documentary we discovered that even though they depended on this water way for making a living or enjoyed it for its recreational value they were willing to talk more about their personal and spiritual connection with the River and the Bay.

On one occasion we interviewed Fred Millender who owns a commercial seafood business in Eastpoint. He told us of the days when he was a boy working with his father and brothers in the seafood business before they had gasoline powered motors. They actually oared their way around the bay catching mullet, crabs, shrimp and oysters. He spoke of being so tired that when the tide got low they would pull up onto a deserted island covered with tall marsh grass and push the grass over and fall asleep on it until the tide came back in. He also spoke of his love for music and playing in a band with his brother entertaining the troops during World War II while they trained at Fort Gordon Johnson. Then he began to talk about his church and asked and if we knew the song about the crucifixion. As he described how he and his brother performed this song he sang a phrase of it, stopped and described how the dobro came in here, sang another phrase, then another description. Overall he had sung a complete verse with brief descriptions in between the phrases. Later when I was reviewing the tape of his interview I was so touched by his smooth and warm voice that also had a certain indescribable "larger than life" quality and his unique interpretaion of this old spiritual that I was compelled to record music around his singing voice. In the sound track his voice in the song "Were You There?" is from that interview at his seafood house with the other instruments added after the fact.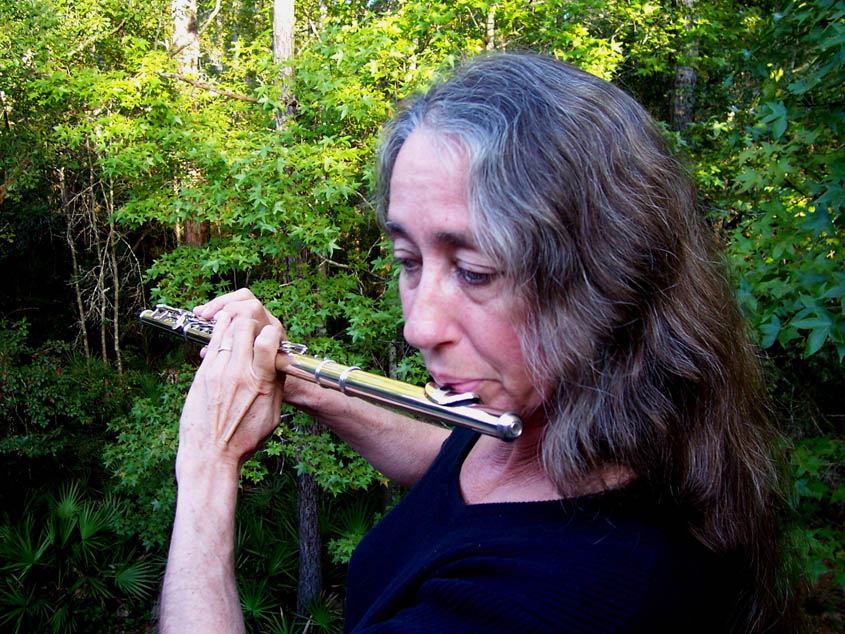 Sandy Tedder - concert flute

Listen to November Light - Real Audio

Listen to November Light - Windows Media Player

My dear wife, Sandy graciously agreed to play a flute solo on the song, November Light. One of the reasons I make and play river cane flutes is that I am trying to sound like Sandy. Her beautiful, rich flute tone cannot be duplicated by anyone else but she is the inspiration for my music and has taught me so much about the flute during the years we have been together. Her willingness and patience to hear my compositions over and over again as I record and rewrite and rerecord my songs is quite incredible. Her beautiful, melancholy solo on November Light is highlight of this of the CD to me.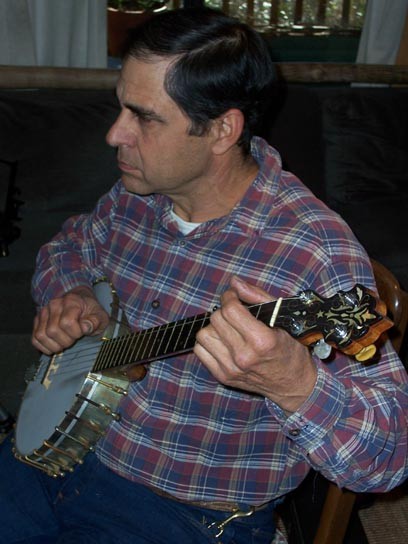 Frank Lindamood - old time banjo, guitar & harmonica

Listen to excerpt from An Odyssey - Real Audio

Listen to excerpt from An Odyssey - Windows Media Player

I have known Frank Lindamood for more than 20 years but until about 10 years ago I had no idea that he was a scholar of old time American music. We were having a jam session with some Wakulla County friends and Tom T. Hall was invited to join in. Being a woodwind player, I had to sit on the sidelines with only an occasional stab at strumming a few crude chords on a borrrowed guitar while the rest of the musicians played country and bluegrass. Frank brought his banjo and Tom T. Hall said several times, "I hope you all know what you have here. This man (Frank) is keeping alive a disappearing American tradion, the claw hammer banjo pickin' style." From that day on I have come to really appreciate Frank's playing and especially his knowledge of old time banjo and guitar songs. He is practically a "walking encyclopedia" of the pre-blue grass and blues history. Realizing that sax, flute and keyboard would not accurately reflect the historical part of this documentary and would not completely capture the feel of the people who work on the River and in the Bay I asked Frank to join me on this project. Frank graciously agreed to help me and his banjo, guitar and harmonica gave this sound track exactly what was needed to give this collection of songs the flavor of the River.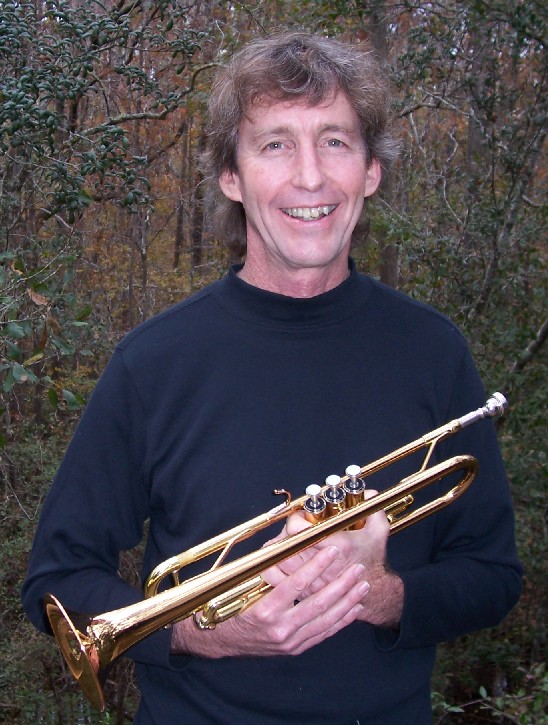 René Arbogast - trumpet

Listen to You Got to Get Your Feet Wet - Real Audio

Listen to You Got to Get Your Feet Wet - Windows Media Player

Two of the songs on this sound track are in the rhythm and blues style and I needed a horn section. My long time friend, René Arbogast agreed to help me out by arranging the horn parts for and playing trumpet on the song, Old Friend. On track 17, You Got to Get your Feet Wet, René played two great leads that give the song its frolicking, fun time attitude and on the Celtic-jazz song, Water Dance played a fiery jazzy waltz. I met René in 1986 when we traveled together to the Soviet Union with the Tallahassee/Krasnodar sister program. Pam Laws, Lindsey Sargent, René and I played concerts of American music in the USSR. René and I have been good friends since and you can hear his wonderful trumpet style in all my CD's. Trumpet can come across as a real "macho" instrument and a lot of players get caught up in showing off their prowess by screeching out the high notes but René has a soulful style that can reveal a spectrum of emotions and still play the high notes when they are needed.

Wayne Martin - fiddle

Listen to Water Dance - Real Audio

Listen to Water Dance - Windows Media Player

The final touches were made to this sound track when Wayne Martin of Blountstown, Florida recorded fiddle on Mississippi Sawyer, a song within the second track called The Odyssey. Wayne also tried out his Celtic chops on Water Dance and recorded a haunting rendition of How Firm a Foundation. Before Wayne came down to record I asked to think about what song he would play if he was standing on the banks of the River alone at sunrise or sunset. How Firm a Foundation was what he played. Wayne is the owner of the Callahan restaurant in Blountstown and once a month feaures old country music in his small concert hall behind the restaurant. I was introduced to Wayne by Elam Stoltzfus and on one occasion we had the pleasure of listening to Wayne and his band, Country Gold back up Nashville's legendary harmonica player, Charlie McCoy. After I heard him play that night I knew there would be a place for his fiddle in this sound track.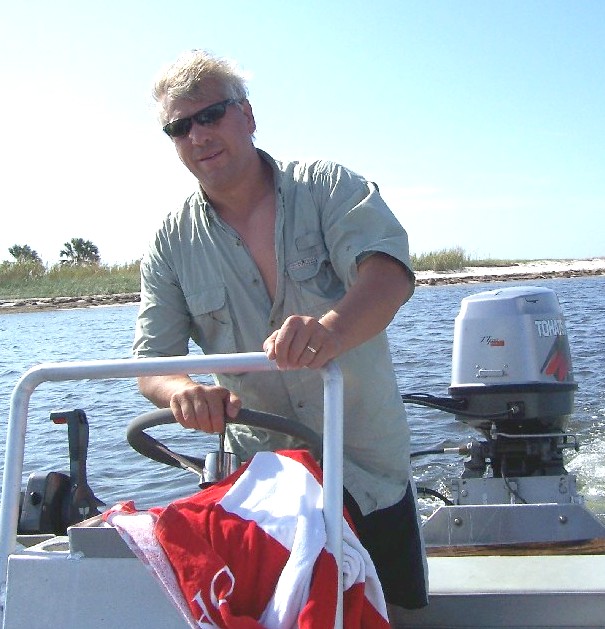 Elam Stoltzfus - Executive Producer/Cinematographer

This entire collaborative endeavour would have never taken place without the vision of Elam Stoltzfus. Elam has lived near the Apalachicola River for more than 20 years and has always felt that there was a story to tell about the river system and the people who lived and worked there. Fund raising, convincing reluctant interviewees to tell their story, taking Clyde Butcher, Richard Bickel and myself up and down the River to find subjects to photograph and record and actually filming the River and its people--these are just a few of the tasks involved in producing this documentary. As a reslult of Elam's efforts there is now a coffee table book of Apalachicola River landscapes by Clyde Butcher, a coffee table book of the people by Richard Bickel, my sound track CD and best of all, a film documentary of this vast watery wilderness and its inhabitants. I am truly honored to be a part of telling this story about the Apalachicola River, a true American Treasure.