Sammy Tedder's Main Page | Discography | How to Order | Schedule | Links
---
How to Make River Cane and Bamboo Flutes








Several River Cane flutes made from cane found along the Apalachicola River were used in the sound track for the film documentary, Apalachicola River - An American Treasure

The River Cane Flute is also featured in these albums:
Big Cypress Swamp: The Western Everglades Original Soundtrack Music and Nature Sounds
Ancient Horizons
Living Waters: Aquatic Preserves of Florida

Several years ago I decided to learn how to make flutes from our native "bamboo" or river cane, Arundinaria gigantea. Being a long time fan of the great Native American flutist, Carlos Nakai and also being intrigued and moved by the Celtic low whistle music of Irish musicians such as Davy Spillane, I embarked on the challenge of making a flute using the Native American sound production mechanism combined with the fingering of the Irish Penny Whistle.
The first challenge was to duplicate the sound mechanism of the Native America flute and produce my first clear note on the piece of river cane. This is truly a rewarding experience in itself. The first time I was able to blow into the river cane and produce a note I felt as though I had performed a miracle! I am sure the first flute makers felt the same sense of awe as they discovered how to produce music with a piece of wood or bone.

THE PROCESS

After carving a flat surface across the top joint of the bamboo, drill a small hole on either side of that joint and make your cap to cover the top tone hole of the blank flute. See the series of photographs below.

Here are the finger hole multipliers for a 6 hole flute: Measure the distance from the lower edge of the tone hole to the bottom edge of the flute body (17 1/2 inches, for example) and multiply this measurement by the following proportions: (Hole #1 is the top finger hole and hole #6 is the bottom finger hole.)



#1 = 0.46

#2 = 0.52

#3 = 0.60

#4 = 0.68

#5 = 0.73

#6 = 0.80


With much trial and error I came up with the general length and diameter of river cane or bamboo that works best for making flutes in the key of F and G minor.


Distance from the bottom of the tone hole to the bottom of the flute: 17 1/2 inches

Inside diameter of the flute: 5/8 of an inch

The river cane flutes I make enable me to play in both the pentatonic scale (Native American style) and the diatonic scale (our major and minor scales as we know them). With these flutes I can play both Celtic and Native American styles on the same instrument.



Check out my CD's that feature the River Cane Flute.
Discography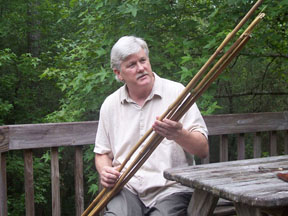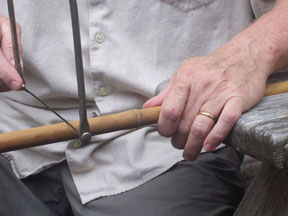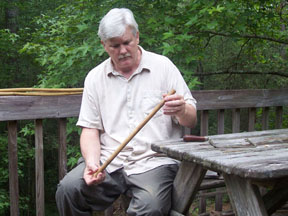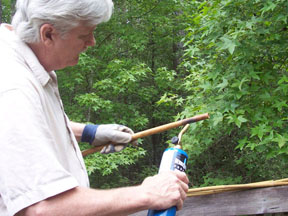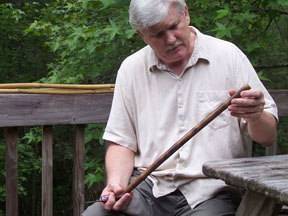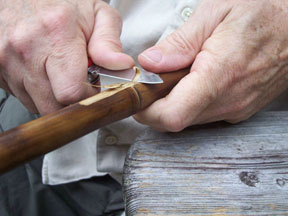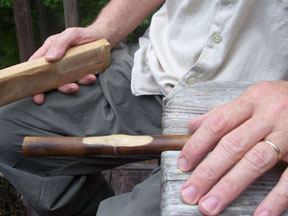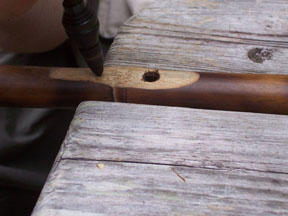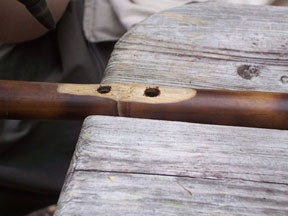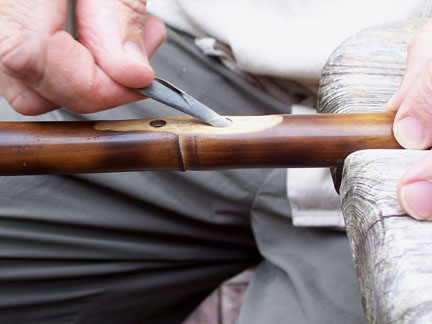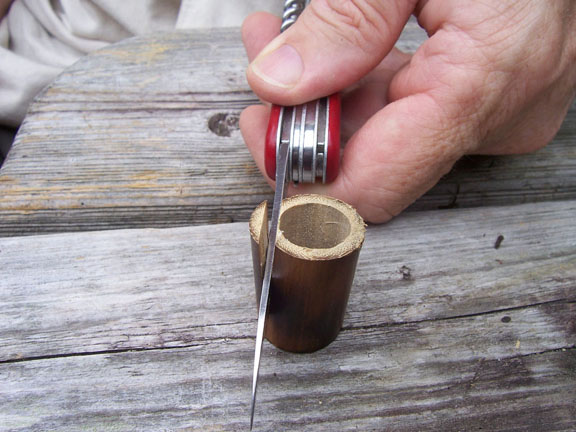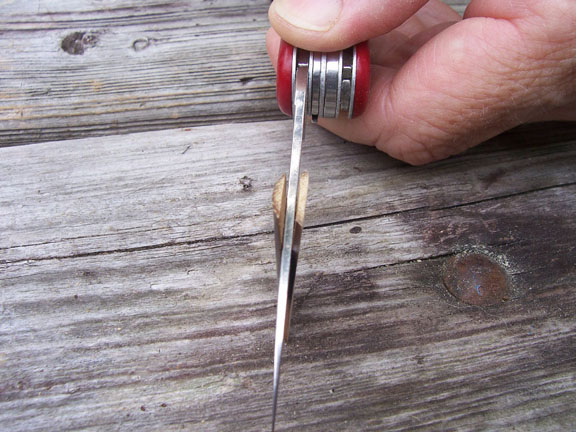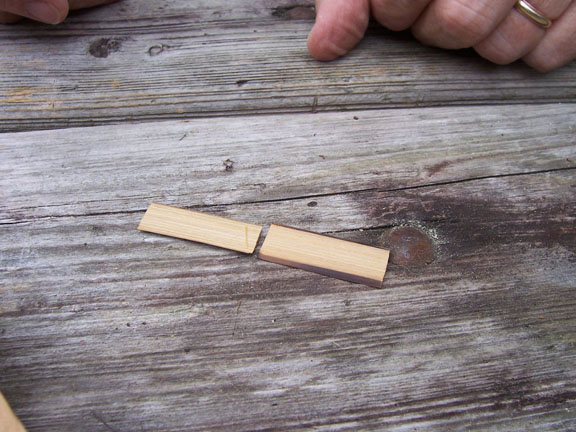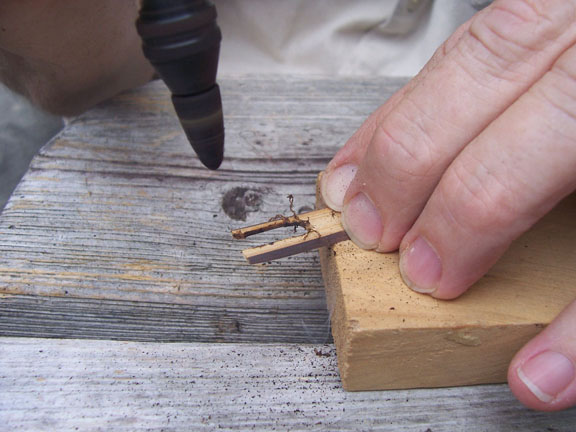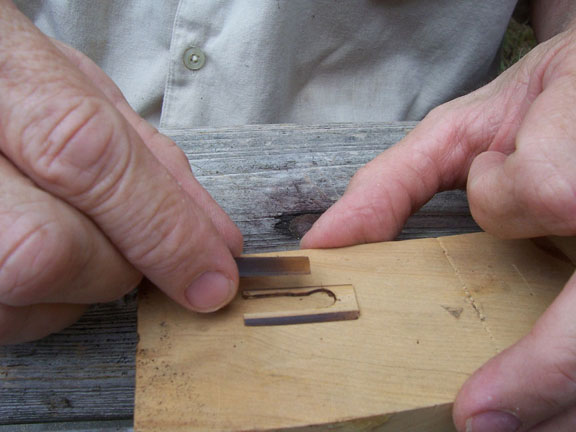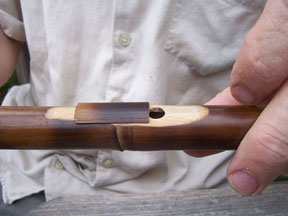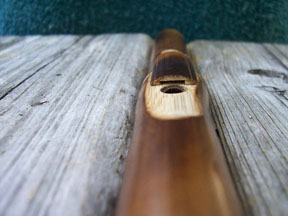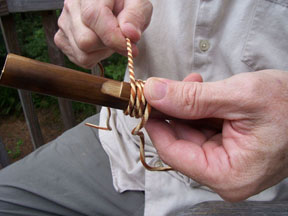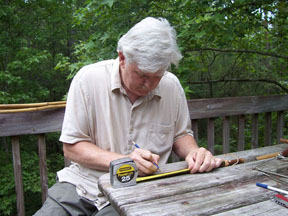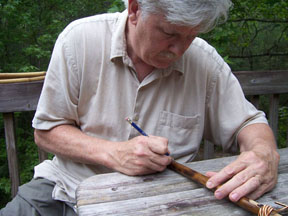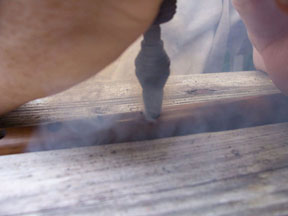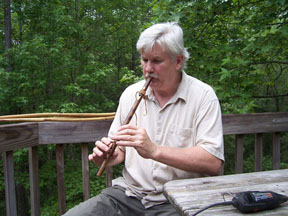 Check out my CD's that feature the River Cane Flute.
Discography